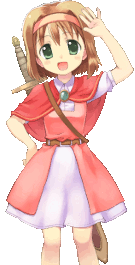 Arche Plumfield is the protagonist of Fortune Summoners. Unlike her classmates, Arche specializes in swordsmanship.
Background
Edit
Abilities
Edit
Slash (level 1)
Thrust (level 1)
Roll (level 1)
Cartwheel (level 1)
Wide Slash (level 1)
Snap Thrust (level 1)
Jump Kick (level 1)
Arcing Slash (level 1)
Downstab (level 2)
Combo Slash (level 3)
Wheel Slash (level 5)
Combo Wide Slash (level 7)
Snap Slash (level 9)
Knight's Thurst (level 10)
Leaping Slash (level 12)
Twirling Slash (level 14)
The Full Moon (level 17)
Buster Tornado (level 20/3 MP)
Unison (After breaking Elemental Stone/10 MP)

Wind Thrust (Ability with Unison)
Ad blocker interference detected!
Wikia is a free-to-use site that makes money from advertising. We have a modified experience for viewers using ad blockers

Wikia is not accessible if you've made further modifications. Remove the custom ad blocker rule(s) and the page will load as expected.